EDIT MAIN
THERE WILL BE NO BOARD OF EDUCATION MEETING IN DECEMBER.
Marengo Union Elementary Board of Education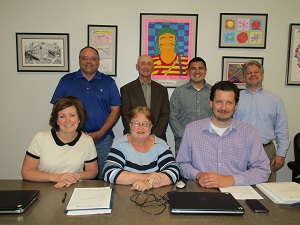 Front Row: Lesley Pace-Vice President, Barb Dochterman, Rick Czepczynski
Back Row: Matt Erbstoesser-Secretary, Greg Wright-President, Jude Castro,
John Wyrostek
FOIA Officer - Lea Damisch email: ldamisch@marengo165.org

Questions or communications for the School Board's consideration may be sent to the following email address: BOE@marengo165.org
Regular Board Meetings begin at 7:00 p.m. See Board Meeting Calendar pdf. listed below.
Please Note: PDF/File downloads will download/open a document in another window or application depending on your computers default settings. Some PDF's were created to be printed as double sided.